U.S. Sen. Blumenthal notes during New Haven Veterans Day ceremony: We must honor vets daily
It was spring 2001 and the United States was in peacetime. There was little Namnoum could have done to foresee the events that September that would change the course of his country and by extension, the course of his military service.
"What a country we lived in back then," Namnoum said. "To this day, we have not been able to celebrate our country at peace and my heart goes (to) who have lived in this land only knowing it in a time of war."
Namnoum was Friday's keynote speaker during the city's Veterans Day memorial services at the Center Church on the Green. Twice deployed under Operation Iraqi Freedom after enlisting in 2001, Namnoum served as an amphibious assault vehicle repairman, serving in Kuwait and Iraq. Two of his grandparents served in World War II, which influenced his decision to enlist as a senior in high school.
A Wallingford native who graduated cum laude from Southern Connecticut State University in 2014, Namnoum now works as a boat captain for Norm Bloom and Son. He serves as chaplain of the Veterans of Foreign Wars New Haven, Post 12150.
"Now that I've met and worked with veterans from all across the state, I can honestly say that this generation has not only answered our country's call to arms, but also they've never forgotten their oath of service and love of service to others," Namnoum said.
Mayor Toni Harp joined U.S. Sen. Richard Blumenthal, D-Conn., in the Veterans Day ceremony, which was organized by the Veterans Affairs Committee. Connecticut Air National Guard veteran Frank Alvarado served a master of ceremonies, while musical selections were performed by the Unity Boys Choir of New Haven.
"I think this gathering is so important," Harp said. "The commitment veterans have shown is praiseworthy and certainly deserves this national holiday each fall."
A veteran himself, Blumenthal has additional personal connections to the holiday: Two of his children have served, including one recently deployed abroad in the U.S. Navy and one that served in the U.S. Marine Corps Reserve. Blumenthal wore a Blue Star lapel pin Friday, which denotes those whose family members are currently serving.
"As a veteran, I am proud to be here today, proud to support our veterans as the ranking member of the United States Senate Committee on Veterans' Affairs," Blumenthal said. "We need to honor our veterans every day, not just on Veterans Day."
The ceremony ended on a somber note prior to placing of wreaths at the city's World War Memorial at the Green. Retired Col. Kenneth Gertz spoke of the bugle call "Taps" and it was played during the ceremony.
"You heard it play today," Gertz said. "Everything we do in the military has symbolism to it."
IMAGES: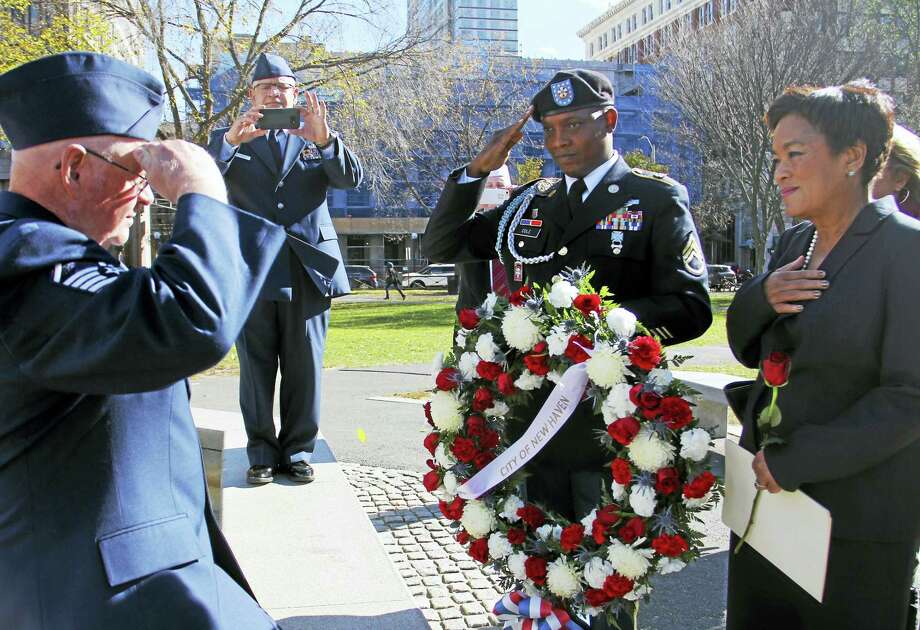 New Haven police officer and Connecticut Army National Guard Staff Sgt. Dennis Cole salutes a fellow veteran while standing next to Mayor Toni Harp during a laying of wreaths commemorating Veterans Day on the Green. Cole also serves as Harp's security officer. Esteban L. Hernandez — New Haven Register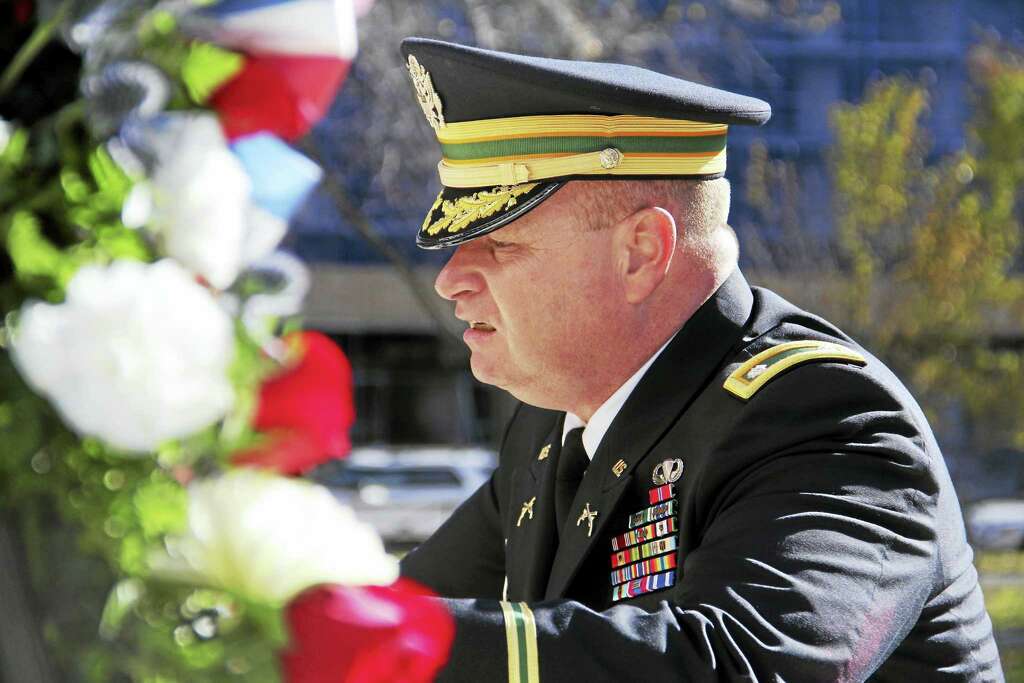 Connecticut Army National Guard Lt. Col. James H. McLean places a wreath on the city's World War Memorial on the Green in observance of Veterans Day. Esteban L. Hernandez — New Haven Register